Tribute marks ten-year milestone as Official Beer of South West rugby
As the 2017/2018 season kicks off, St Austell Brewery's flagship Tribute Cornish Pale Ale is celebrating ten years as key sponsor of the South West Rugby Football Union, including the 10th season of sponsorship of the local leagues across Cornwall, Devon and Somerset.
First becoming the official beer of South West rugby in 2007 as part of a 10-year partnership agreement, the popularity of Tribute has grown from strength to strength across the south west and beyond during the past decade, with sponsorship of the South West RFU playing a key role in the development of the Tribute brand over that time.
Delighted at the renewal of the partnership deal, St Austell Brewery's Trade Marketing Manager Marc Bishop commented, "Tribute has become synonymous with South West sport over the last ten years and our rugby sponsorship has played a huge part in that. We have made many friends within South West Rugby over the years and the support and enthusiasm we have received from within the sport has always been magnificent.
"It is a real honour to support local rugby and we know that many players are big fans of our beers so we're proud to be able to help them with their passion for rugby."
Cementing the renewal of the partnership at St Austell Brewery, SW RFU Secretary Mike Gee, who picked up the British Empire Medal in 2015 for his own dedication and devotion to the sport said, "We are delighted to be continuing our relationship with St Austell Brewery, who have been very supportive of us over the years. As a company, they are committed to giving back to the local communities in which they operate and we look forward to developing our friendship and partnership further over the next decade."
The 10-year sponsorship was celebrated earlier in 2017 through the introduction of the Team of the Month awards across the Cornwall, Devon and Somerset leagues, with local panels of judges deciding on the most deserving team in each county to receive a case of Tribute Ale. 
As Mike himself puts it, "This is all about recognising the effort that clubs put in week in, week out on the pitch, so it is not just about winning. Battling against the odds, giant-killing and even just getting a team out each week are challenges some teams face, so it's all to play for."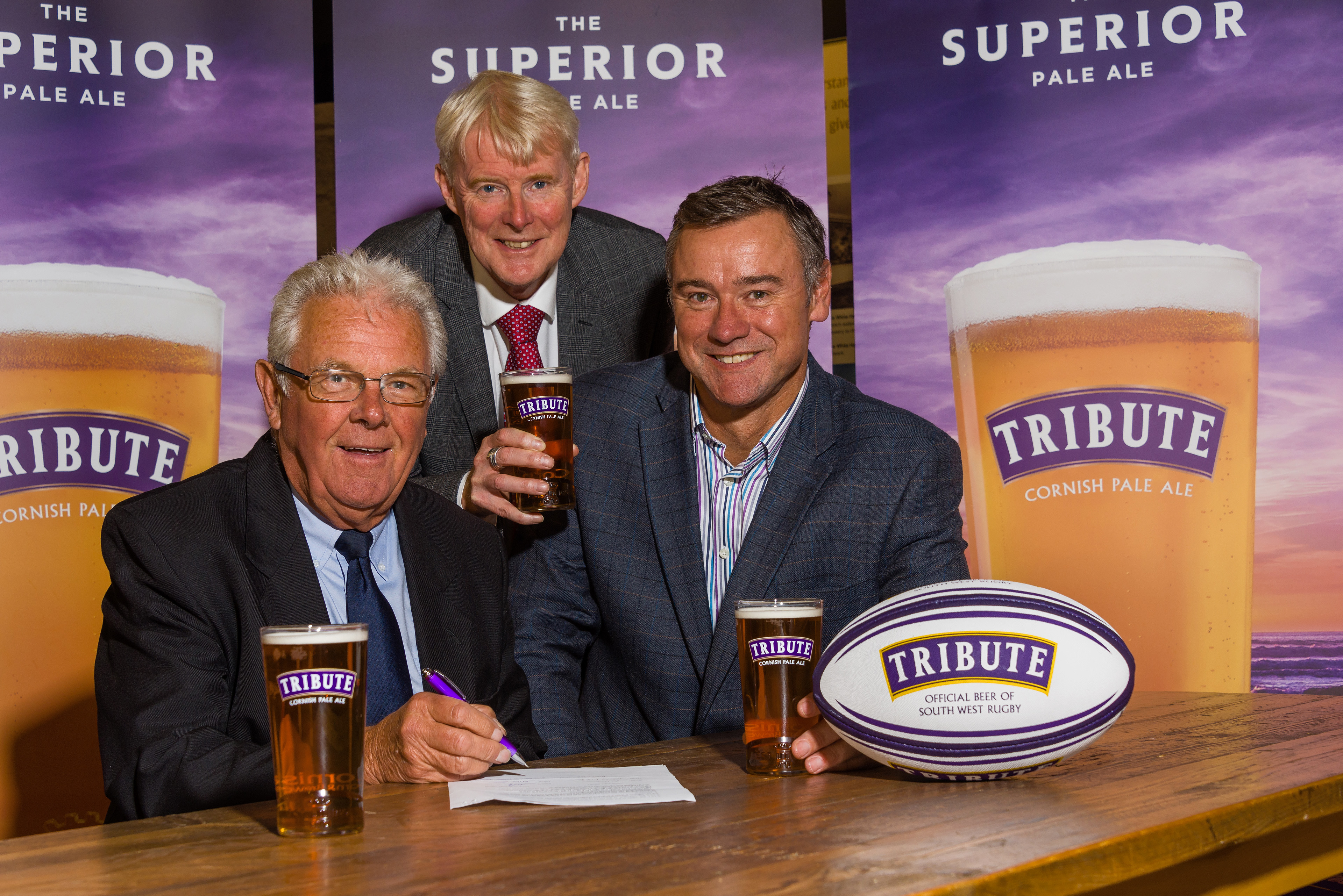 Pictured at the signing ceremony L-R Mike Gee, SW League Co-ordinating Secretary, Marc Bishop – St Austell Brewery Trade Marketing Manager and Communications Director Jeremy Mitchell