Result Cards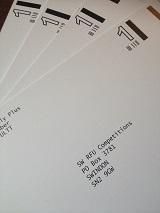 All clubs were sent sufficient cards to last the season, but along the way they get lost, stolen, used as beermats or just simply misplaced.
Any club which is running out should send an C5 sized SAE with an ordinary first class stamp on it to the SW Administration Office, P O BOX 3781, SWINDON, SN2 9GW. Remember to state which of your teams it is for as different leagues use different cards.
We aim to supply new cards within 72 hours of receiving your request.
09 Mar 14